One of the landmarks of RPI during my time in Troy was the George Rickey sculpture titled Two Rectangles, Vertical Gyratory Up, otherwise known as The Chrinitoid. It was removed from campus in the summer of 1984 (see this Polytechnic front page piece). Rumor always had it that Mr. Rickey wanted RPI to buy it and they couldn't come to terms financially. I have always wondered where the sculpture ended up.
| | |
| --- | --- |
| | I visited RPI back in December of 1997. While there, I took this picture. Obviously, others hope that the Chrinitoid can be returned to it's former home if we ever find it! Today, you will find a different Rickey sculpture at the Chrinitoid site. This sculpture, Six Random Lines Excentric, was a gift from Rensselaer Trustee Nancy Mueller. It was dedicated in September 2000. Read about it here. |
One day, while standing in front of the (then) recently renovated San Francisco Public Library, I noted out of the corner of my eye a seemingly familiar object. No, it was not the Chrinitoid but a sculpture known as "Double L Eccentric Gyratory" by the artist George Warren Rickey. At the time, I didn't remember the name of the artist responsible for the Chrinitoid, but the name sounded familiar. I went inside to see if the library had any information on the artist.

This was apparently the beginning of my search for the Chrinitoid.
| | |
| --- | --- |
| I am not sure of the year that the search started, but the Library renovation was completed in 1997. At the time, I was working for a company called Sense8. While they are now out of business, at the time, they were a leading developer of virtual reality software. Since we were always looking for ways to demonstrate our technology, I build a simple model of the Chrinitoid. You can see a resultant animation here. | |
After a while, I got curious about the Chrinitoid's where about and put up the first "In Search of the Chrinitoid" webpage. This attracted the attention of a number of people, mostly RPI alumni. Eventually (in February of 2004), I received the following note:
Dear Tom,
I collect George Rickey Sculptures. I saw by chance your search for this particular sculpture.
Though I do not know where the "Chrinitoid" is, it is very likely that the office manager for the George Rickey Workshop , Birgit , ( pronounced Beergit ) will know where it is. Since the work is very large it is likely at a public institution ( like an art museum ). George sold alot of works in Europe, so this particular work could be anywhere! If it is in a public setting I'm sure that she will provide you with it's location. She may have to research it for you.
Birgit can be reached at The Rickey Workshop at 518-794-7194. I believe that she works Tuesdays through Fridays.
Good Luck,
Please let me know if you find it.
Best Regards,

Bob Hamilton
I immediately reached out to Birgit and she was extremely informative. Here are my notes from our conversations:
Two Rectangles, Vertical Gyrotory Up, Variation III
1970; Stainless Steel
Height 35'
Rectangles 19'6" x 59"

Remove from campus in summer 1984. returned to the Rickey workshop
grworkshop@taconic.net
East Chatham, NY

Rickey died 7/17/2002
Cancer/Alzheimers
professor of art at RPI 1960-65
friend of Roland Hummel (now in his 80's)

Sold in 1990
HQ of Bank in Zurich (Union Bank of Switzerland)
The key bit of information, obviously, was that the Chrinitoid had been sold to the Union Bank of Switzerland. It actually took some time for it to click that "Union Bank of Switzerland" was better known in the states as "UBS". A couple more Google searches and I found the curator of the UBS Art collection. I filled out a form on their website, but never really expected a reply. Incredibly, I got a reply (the next day):
4/8/04
Dear Mr Payne
Thank you very much for your inquiry regarding the sculpture by George Rickey. It is indeed owned by UBS and located in front of of the "Schanzenbrücke-Building" in the heart of Zurich. It is a commissioned artwork by Rickey made especially for this place. We have also a smaller sculpture by Rickey from 1989. This was the first idea to put in front of the Zurich building. It is placed in our Wolfsberg Executive Development Centre at the lake Constance (1 h from Zurich)(see attachment). Unfortunately I do not have a jpg from the Zurich sculpture but if you wish we can find one. To visit both sculptures is not a problem - they are located in public spaces. Please let us know what kind of information you need?

with kind regards

Dominik Saam
Visiting the Chrinitoid: A couple of more emails with Mr. Saam and the location of the Chrinotoid was pinpointed...almost. Mr. Saam notes that it is located in front of the UBS Headquarters in the heart of Zurich, Switzerland. Finding the "Schanzenbrücke-Building" was not easy. Here is a picture of the building...but no sign of the Chrinitoid. A picture I found on the Zurich tourism site indicates that it is located at "Schanzengraben, 8001 Zürich". Schanzengraben is apparently a small river that flows through downtown. You can see a river in the foreground. After locating some maps of the city, this appears to be nearest the UBS offices at Stockerstrasse 64.

If you get anywhere near hear, be sure to take a picture and send it my way...
Thanks to Google Maps, I can provide satellite imagery of the Chrinitoid site. Click here and look for a pale, blurry bow-tie between the shadow of the octagonal Schanzengraben building and the river. This is the Chrinitoid!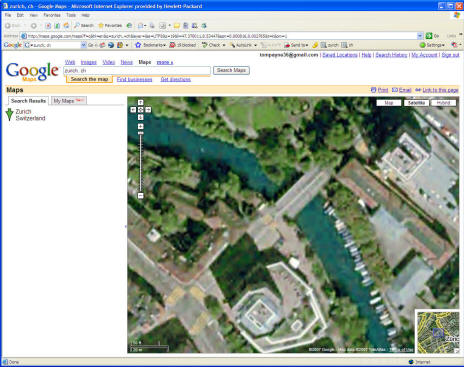 The Article: I wrote an article for the Winter 2004 Rensselear Alumni magazine. It has generated a number of emails from Chrinitoid fans over the years. Drop me a note and I'll add your comments for others to enjoy.