At Siggraph97 (August 3-8, 1997 in LA), along with the Cave of Lascaux exhibit, Sense8 also debuted an experience base on data from NASA's Mars Pathfinder mission. In the CAVE, visitors were able to step foot on the red planet and explore the area in vivid 3D.

I was excited to find this article in a 1999 issue of Journal of Geophysical Research.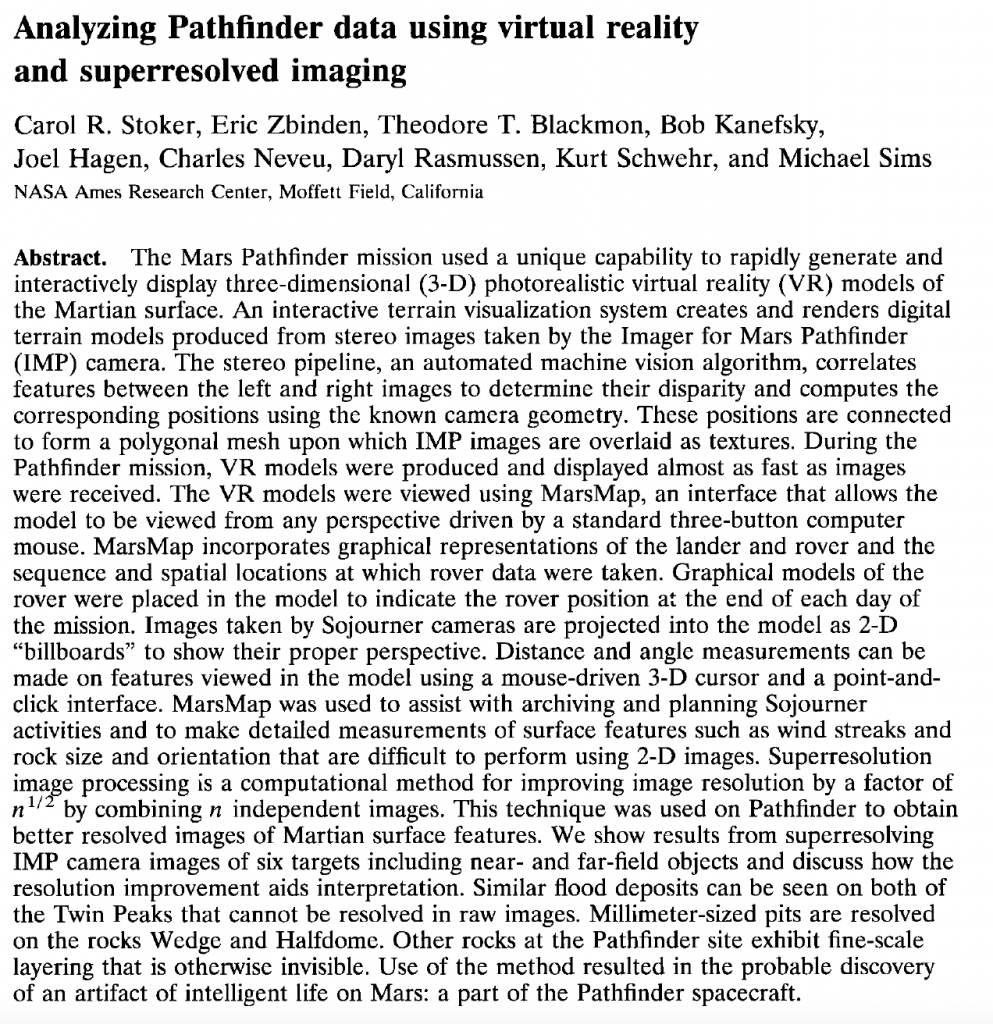 Here is another paper from the NASA website. And one from the Fifth International Conference on Mars
I honestly don't remember ever interacting with the researchers, but I have reached out to the people I could find on LinkedIn. I hope to hear from them and would love to share their memories/thoughts on the project. Here are their names and LinkedIn profiles:
Joel Hagen
Daryl Rasmussen <– from the Press Release below, Daryl might have been our contact
Clearly, this demo was "hot off the presses" and I recall how excited we were to be able to showcase this application/date . Prior to the landing on July 4, 1997, Sense8 released this press release (thanks to HPCWire). Siggraph was only 2 months later in August.
June 27, 1997

Mill Valley, CA -- As part of the objective of the Mars Pathfinder Mission, NASA will use simulation application software built with WorldToolKit from SENSE8 Corporation to create an interactive photo-realistic environment of Mars. When the Mars Pathfinder spacecraft lands on July 4, it will release a single vehicle microrover -- Sojourner -- equipped with a pair of stereoscopic cameras and other sensors onto the Mars surface. These instruments will allow the Sojourner to investigate the geology, surface morphology, rotational, and orbital dynamics of Mars.

  The dual cameras will take stereoscopic images of Mars and send them back to the Mission Control at NASA, where these images will be converted into 3D-Martian terrain geometry using a WorldToolKit-based application. The application will then texture-map these images onto the 3D terrain and create a virtual Martian environment. This WorldToolKit application will allow NASA scientists to interactively explore the terrain in real-time and send the Sojourner to specific areas for further investigation.

  "NASA has developed applications using WorldToolKit for several scientifc research projects in the past, including the Viking 1 mission, which is being displayed at the Smithsonian Institution's National Air & Space Museum," said Daryl Rasmussen, telepresence researcher who heads the Mars Virtual Control Center at NASA Ames Research Center. "WorldToolKit enables Mission Control scientists to become 'virtual astronauts'. The NASA developed application not only allows us to view 3D images taken from Mars, it also enables us to fully immerse ourselves into a virtual Martian environment."

  "SENSE8 is very excited to once again contribute our technology to the field of scientific research," said Tom Coull, president of SENSE8. "WorldToolKit offers developers a rich set of 3D graphics and sound capabilities, which has enabled NASA to quickly prototype and develop this mission-critical application."