So last night I embarked on my first serious quest for an End City and the elusive "elytra" (wings). I watched a number of YouTube videos to prep and talked to Cousin Mikey for advice. For supplies, I brought:
Food (steak and pork chops)
Bucket of water (to scare away Endermen)
Maps (cause I wanted a map)
Slow fall potion (with red stone)
Sword
Pickaxe
(Spare) Diamond armor
My Feather Fall III Diamond Boots
When I got to the End, I collected chorus fruit and set up a "poor man's" Enderman farm ( a three block high shelter) to collect Ender Pearls.
The boots, chorus fruit, Ender pearls and slow fall potions are all meant to help when fighting the shulker (they can make you float uncontrollably…and then stop…causing you to potentially fall to your death).
Even cheating using ChunkBase to get an idea as to the location of an End City (hey, it was my first time), I got lost several times and spend a long time searching.
My fear of having to deal with Enderman was overblown. All you need to do I look down to avoid there gaze.
I finally found a city and had my first skulker battle. What an awful sound they make! And then there is was… the elytra. So cool!
I was not impressed with the various treasure chests and went back to collect some End Rods and Skulker Shells…and then headed for home.
I could see the return portal just two end islands away. While all of my island hopping has been via "bridging" the gap but I decided to give teleporting with Ender Pearls a try. Why did I think that would be a good idea? Mikey had earlier commented that it was dangerous. I thought you couldn't pearl into the void. But apparently you can. (William told me what happened is I pearled to the side of the island and slid into the void.)
I tried again tonight. This time I brought an Ender Chest to safely store my prize(s). (Thank you, Mikey). This time is did not bother with the Slow Fall potion but did bring about twice the food and a comfortable supply of bridging blocks.
I also thought to bring an Infinity Bow which was particularly helpful in clearing out the Shulkers from a distance (like when floating to the ceiling) and a shield. Somehow I forgot that on the first trip and found it helpful against the skulker missles.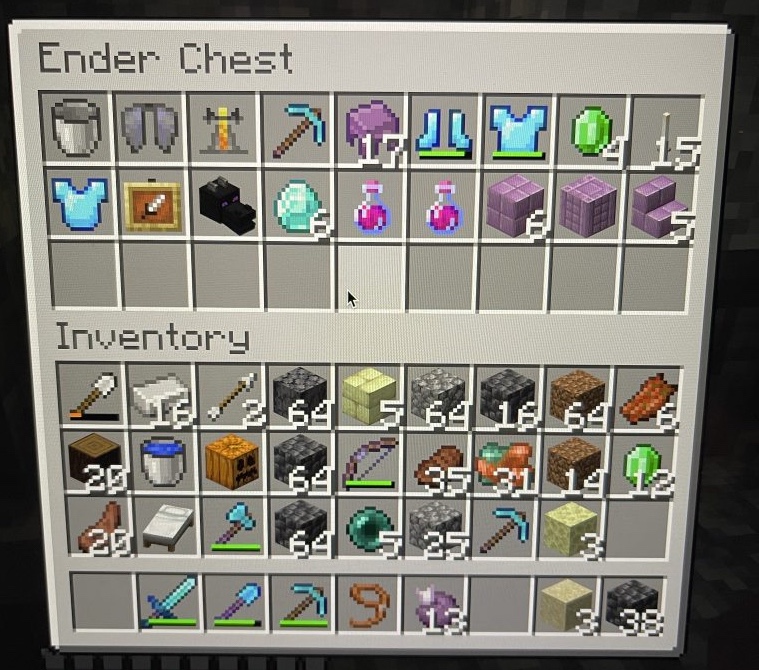 While I made it home intact, it was far less stressful to know the Elytra was safely stored in the Ender Chest (at least once I got back to my base to open the other side of the Ender Chest and see everything safely there! It was the first time I used one.)
So my first City was at -2120,-280 and my successful raid was at -568,-1845. I think Mikey got his at -2840,-872.